<< Home << Contact Us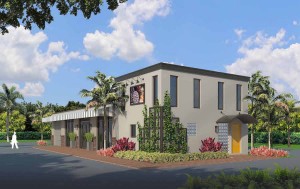 Emerald Skyline Corporation
2141 NW 1st Place
Boca Raton, FL 33431
Phone: 305.424.8704
Fax: 800.212.9230
E-mail: [email protected]
Announcing Emerald Skyline Corporation's New Office Location
We are in the process of renovating a 1,950 square foot warehouse located in Boca Raton, FL. The building was once an environmentally contaminated site used by a towing company and designated as a brownfield, which required remediation. This building is a major renovation project and will be a shining example of adaptive reuse. We will be demolishing the building's existing interior space creating an open concept workspace. Our building renovations will include many sustainable features with the intent to obtain LEED certification. Here are just a few of our intended design elements:
Water Collection Cistern
HVAC Condensation Drip Lines for exterior native Floridian vegetation
New high Solar Reflectance (SRI) Roof
ChargePoint Electric Vehicle (EV) Charging Station
Re-use of demolition materials
Energy Star Appliances
Use of low-VOC paints, sealants and adhesives for building improvements
Occupancy sensors and photos sensors that monitor daylight and reduce energy needs
LED Lighting
Pervious Parking Areas
Low Flow Toilets and Faucets
Daylight Harvesting to lower Lighting Costs
Impact Windows
LEED Certification provides third-party validation that our building was designed and built to improve energy savings, water efficiency, carbon dioxide emissions, resource conservation and indoor environmental quality.
We look forward to showcasing the progress of our much anticipated sustainable office renovations.  Visit our blog and like us on Facebook to see how our project is progressing.